HT3542 Precision DC Resistance Tester is one of the highest-precision DC resistance testers in the industry.
HT3545 DC resistance tester is 6 1/2 and 1.200,000 display, the minimum resolution can measure 0.01μΩ. Its basic accuracy of 0.01% is quite fit in the inverter motor coil inspection and other fields requiring high-resolution resistance measurement.
The HT3545 features high-speed test cable anomaly detection and extremely short measurement cycles, with a maximum sorting speed of 2.2 mS, ensuring high-speed and reliable sorting every time.
HT3542 is a compact version of HT3545.
Thermoelectric compensation (OVC)
Testing range 0.01μΩ to 1200 MΩ
Low power resistance measurement
Test cable open circuit detection function, suitable for OS inspection of automatic production lines
D/A output
Automatic test function
External control I/O port, RS-232 interface, Ethernet port, temperature test interface, analog input and output port, especially suitable for supporting automatic equipment to complete automatic test.

3542 High Speed High Precision DC Resistance Meter Software Operation Interface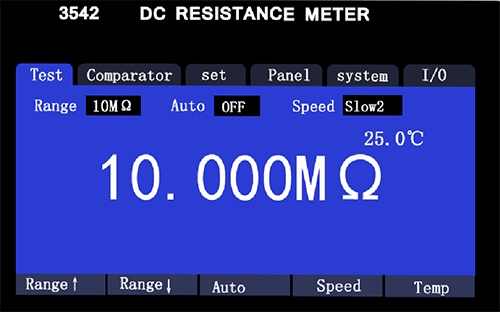 Circuit principle
Each test end is divided into 2 test lines, and a constant current source is added between the test lines. When the DUT is short-circuited at the test end, the current source outputs a low level, otherwise it outputs a high level. Use in this way to check whether the test object or test line is in good contact.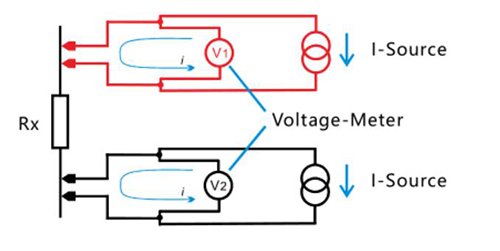 Broken test leads and poor contact with the test object will lead to misjudgment of the insulation test, which may cause defective products to flow into the market. In order to prevent this kind of situation, we have a standard contact check function, which can notify the disconnection or poor contact to prevent the above situation.


For some PCBs with high requirements in aerospace, automotive electronics, etc., it is required to test their vias and traces. With the support of multi-channel switching equipment, HT3545 precision resistance tester offers its scanning and switching at the speed of 2ms per channel.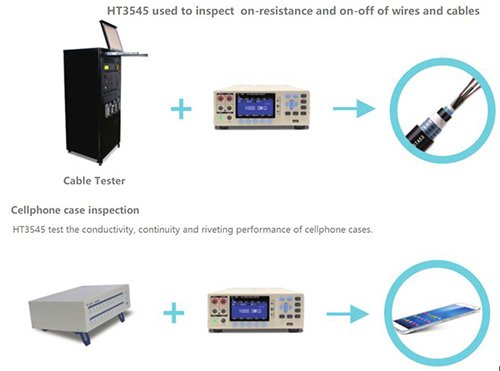 HT3542 single-channel Resistance Tester is suitable for the following application

HT3542 single-channel tester is applied to small signal contacts, small fuses, leads, small magnetic parts, motor coils, transformer coils, solenoids, chokes, wiring harnesses, connectors, relay contacts, fuses, resistors, conductive coatings, conductive rubber.
Suitable to resistance testing requiring high accuracy
Used to test high speed and multi test point resistances
In fast sorting of large quantities of electronic components
For resistance measurement of high, medium and low conductivity resistance materials.
Fit to characterize the low resistance characteristics of electromechanical components under the low current 100mA and low open voltage 30mV conditions
Model
HT3542
Display
3.5 inch TFT-LCD
Measurement parameters
DC resistance
Resolution
0.1μΩ
Test scope
10mΩ~10MΩ,9 ranges
Measuring current
DC 1A-0.5uA
Measuring accuracy
±0.01%rdg.±0.001%f.s.
Measuring speed
FAST(2.2ms), MED(50Hz:21ms,60Hz:18ms), SLOW1(102ms),SLOW2(202ms)
Measurement range
20mΩ/200mΩ/2000mΩ/20Ω/200Ω/2000Ω/20kΩ/200kΩ/2000ΚΩ/10ΜΩ
Signal source
1A DC, Max:5.5V
Temperature
Range:-10℃~60℃
Accuracy:1℃
Humidity range
23℃,less than 80RH
Calibration
Short-circuit reset for all ranges
Comparator
10-bin sorting, output signal HIGH/IN/LOW
Data storage
Support with PC software and store in PC
Trigger
Internal, manual, bus trigger
Other
Test lead anomaly detection
Interface
External IO, LAN,RS-232
Power supply
Voltage:100VAC~256VAC; Frequency: 50Hz~60Hz; Rated power:15VA
Size & weight
325mm*215mm*96.5mm(L*W*H) 2kg
Accessories
HT9348 temperature probe, PB36 connector,HT9344 test clip, HT9800 communication cable, power cord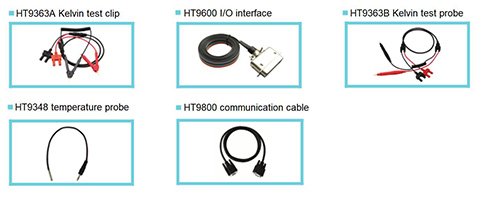 Model
Channel No.
Type
Test Accuracy
Resolution
Display
HT3545
Single
Standard
10mΩ~1000MΩ
0.01μΩ
6 1/2
HT3542
Economy
10mΩ~10MΩ
0.1μΩ
5 1/2
HT3542-12H
12-Channel
Functional
0.1μΩ
HT3542-24H
24-Channel
Functional
0.1μΩ