HT9920 Insulation Resistance Tester is designed to insulation resistance of components and equipment. Using the constant voltage test method, its voltage output range is 25~1000V and the maximum output current is 1.8mA. HT9920 has contact abnormality detection and short circuit abnormality test function, the minimum test period is only 50mS.
Adopting switching power supply principle, max constant current output 1.8mA and voltage output range 25~1000V,with step 1V
High test speed, minimum test cycle only 50mS
Unique anomaly detection function, the instrument can detect the test leads abnormality and the abnormal contact of the measured object, avoiding the open circuit misjudgment
Short-circuit detection function effectively detect short-circuit conditions and avoid
Direct application of high-voltage breakdown of defective products and to misjudgment
Automatic discharge, the instrument will automatic discharge after the test completed. HT9920 adopts non-contact constant current discharge, fast, efficient and reliable
Various interfaces are equipped, external I/O, analog, LAN ,RS232 interface
Double-click trigger to prevent high-voltage electronic shock accidents caused by false triggers. Users can set the double-click action to trigger the test.
Analog output. Analog output port of the instrument output results. After each test is completed, output 0~4V analog voltage value corresponding to the test result. There are two types of voltage output, one is full range output and the other is single range output.
Quickly charge and discharge the capacitive load
Stable measurement without additional shielded wire.
Parts of the device under test contact check function to avoid misjudgment in open circuit.
Short circuit detection before test to prevent high voltage breakdown.
Continuous test mode, PASS termination mode, FAIL termination mode, and forced termination mode.
Various interfaces, suitable for pipeline sorting.
9920 insulation tester software interface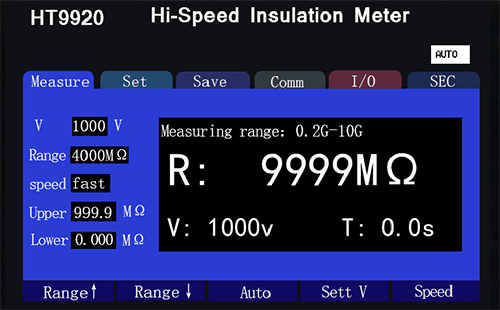 9920 insulation tester back panel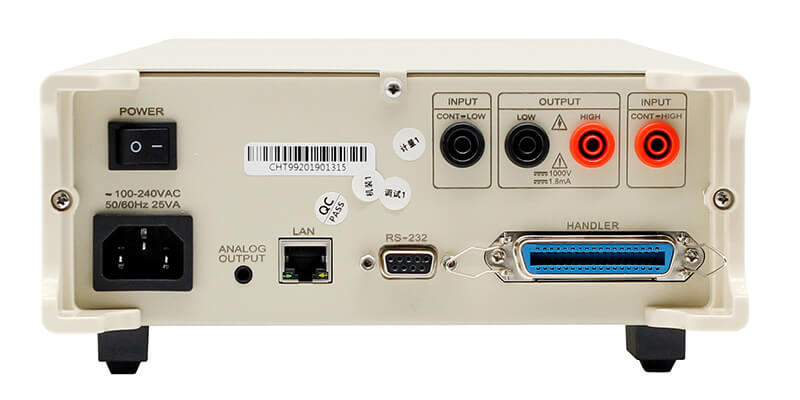 Model
HT9920
Display
3.5 inch  TFT-LCD display
Measurement Parameters
Insulation resistance
Measurement Range
0.1 ~ 9999MΩ (5 ranges)
Basic Accuracy
±2% rdg. ±5 dgt.
Measuring Voltage
DC 10~1000V  1.8mA
Measuring Speed
50ms(fast) 500ms(slow)
Connection Error Display
High voltage side open circuit display "ContHi"; low voltage side open circuit display
"ContLo" ;output open circuit display "ContHL"
Short Circuit Error Display
"SHORT"
Over Range Display
Range exceed lower limit display "UNDER.F"; range exceed upper limit display "OVER.F"
Discharge Current
12mA constant current discharge
Comparator
PASS/L.FAIL/U.FAIL
Data Storage
10 sets of panel setting data can be recorded
Trigger
IO trigger, internal trigger, manual trigger, bus trigger
I/O Type
PNP or NPN
Interface
External IO, analog, LAN,RS232
Power Supply
Voltage: 100V ~ 250V AC Frequency:50Hz/60Hz
Size & Weight
Size(L*W*D):325mm x 215mm x 96 mm, Weight:2kg
Accessories
HT9921 test clip,PB36 connector,HT9800 communication cable, power cord(Options available )
The HT9920 High-speed Resistance Tester has a wide insulation testing hybrid vehicles, electronic components, vehicle electronics, lithium batteries, materials, soft batteries and power batteries.

Circuit principle
Each test end is divided into 2 test lines, and a constant current source is added between the test lines. When the DUT is short-circuited at the test end, the current source outputs a low level, otherwise it outputs a high level. Use in this way to check whether the test object or test line is in good contact.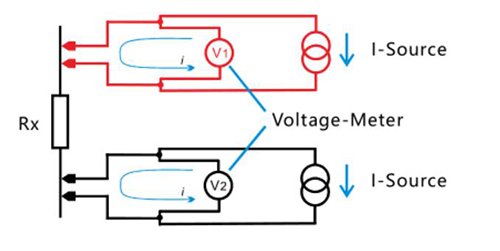 Broken test leads and poor contact with the test object will lead to misjudgment of the insulation test, which may cause defective products to flow into the market. In order to prevent this kind of situation, we have a standard contact check function, which can notify the disconnection or poor contact to prevent the above situation.

Low voltage short circuit judgment function
When there are metal particles or other defects that cause the product to be tested to short-circuit, directly applying high voltage to the product will cause the problem points to be burned and fake a good insulation state. As a result, the defective product flows into the market. For the metal particles in the product, it may be short-circuited again after vibration.
A fake good-insulation tester result in the first situation

A fake good-insulation tester result in second situation

Bad workshop environment, in dust, vibration, humidity, temperature environment
How to measure the products insulation?
HT9920 built-in a high-efficiency switching power supply, device internal heat is small and no heat dissipation. So the chassis can be made sealed to avoid dust. The sensitive parts select low-temperature drift components and strengthen moisture-proof treatment. The whole PCB using patch design technology has a strong shockproof performance.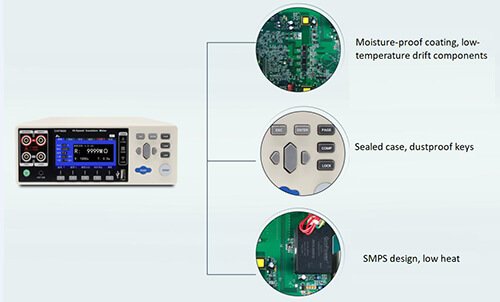 SMPS design, low heat
Moisture-proof coating, low-temperature drift components
Sealed case, dustproof keys
Fast and efficient inspection
The fastest inspection time of HT9920 insulation tester is 50ms (0.05s), which achieves the fastest speed in the industry and achieves the purpose of shortening inspection time.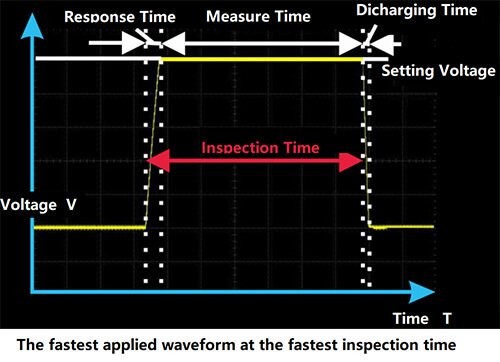 HT9920 insulation tester is featured as:
Quick test
Fast discharge
Quick abnormal detection
fast charging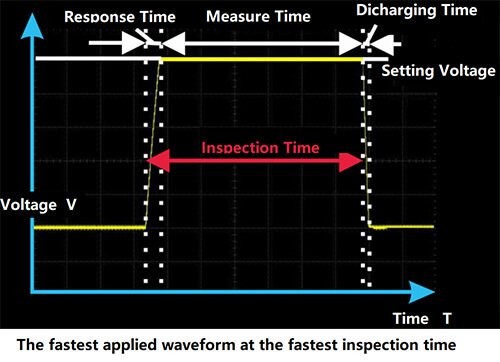 HT9920 insulation tester VS traditional insulation tester in the market

Principle of discharge
HT9920 using transistor to constant current 12mA discharge, traditional insulation test to constant resistance discharge.
The discharge time compare with traditional insulation tester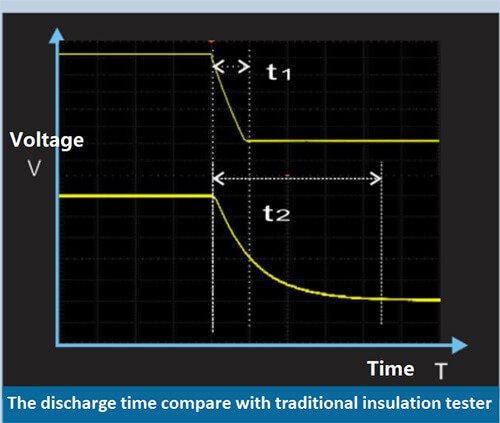 Constant current discharge method adopts voltage readback judgment to ensure no residual discharge every time.
Traditional discharge method, using timed discharge, residual voltage is uncertain.
Traditional discharge method, the relay works under high voltage for a long time, which is easy to cause contact burning, and eventually lead to poor contact.
Constant current discharge method, the discharge current is constant, will not cause instantaneous overpower or arc drawing. This method has a high reliability.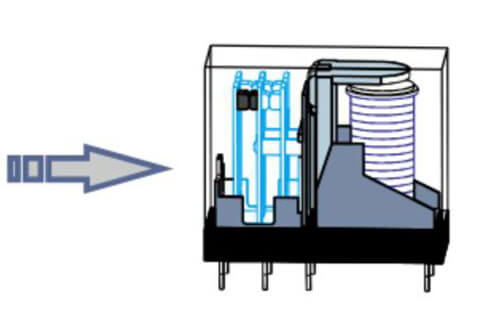 Relay contact point burnt when using traditional discharging
Rich interfaces configuration

Support U disk program upgrade
When the customer needs to customize any function and no hardware is involved, the customized changes can be upgraded through the disk interface. You don't need to send the instrument back to the factory.
Quick import from U disk settings
When multiple HT9920 insulation testers are used in the same production workshop, when new products need to be produced, users need to set the parameters in insulation testers again. It is allowed users to quick import the parameter configuration from U disk to quickly copy the parameter settings between the testers. It improve efficiency while ensuring the consistency of parameter configuration, reducing the possibility of errors.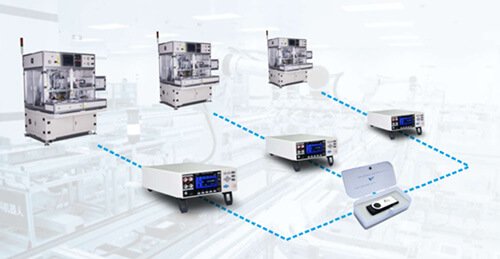 Low background current
The current sampling part in the traditional instrument cannot be isolated from the ground with high voltage and high insulation impedance. When the DUT or test tool and the ground have poor insulation, the test stability and accuracy are affected by the ground current loop and directly cause the test to fail.
HT9920 insulation tester simulated the high voltage and high insulation impedance isolation between the tester and the ground, eliminating the test problems caused by the ground loop current, so it is particularly suitable for automatic test occasions with complex wiring and tooling.

Insulation testing requirements for soft-pack batteries
Insulation testing requirements for soft-pack batteries is to detect the insulation degree between the aluminum-plastic pouch and the two tabs, and the insulation degree between the two tabs. In the testing process, it is necessary to ensure that the aluminum plastic pouch is effectively pierced by the puncture needle, and the test is effective.
The traditional inspection method of soft battery requires two insulation resistance meters in four steps. One is used to test the insulation resistance between the two tabs and the other is used to test the insulation resistance between the tabs and the pouch. But now, you only need one HT9920 tester insulation tester to make it.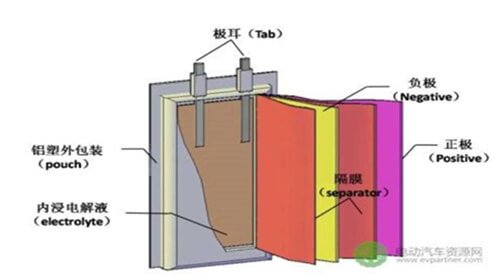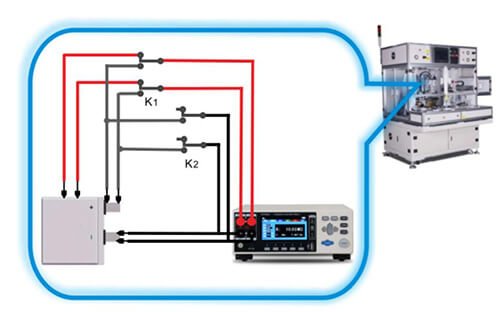 Comparison
HT9920 Solution
Traditional Solution
Hardware cost
1 piece HT9920
1 piece 4-pole double throw relay
2 piece insulation tester
4 piece 4-pole double throw relay
Test procedure
1. Recall setting 1 to test the
insulation resistance between pouch and tabs'
2. Recall setting 2 to test the insulation resistance between the two tabs.
1.Using PLC to test whether the three sets of probes are in good contact;
2. Short-circuit the two tabs to discharge;
3. Insulation resistance meter A detects the insulation resistance between the two tabs;
4. Insulation resistance meter B detects Insulation resistance between the tabs and the aluminum plastic pouch.
Test efficiency
High

The HT9920 tester comes with contact anomaly detection, efficient and fast.
After the test completed, fast constant current discharge

Slow

The instrument has no contact anomaly detection.
After the test completed, Slow constant resistance discharge

Project implementation
And maintenance
Simple

no more than 10 wires

Complicated

More than 40 wires "